WONDERING STARS
a solo exhibition by Matt Marble 
May 18--June 5, 2021
at Greensboro Project Space

Wondering Stars (2021) explores music, visual art, and poetry through a personal dream-derived divination system. The exhibition features alcohol ink drawings, acrylic painting, modified guitar sculpture, and corresponding audio installations of recorded guitar music, as well as documentary video and other materials related to the creative process.
Inspired by his ongoing dreamwork, as well as studies in esoteric traditions of divination and spiritual alchemy, Matt has been developing an idiosyncratic divination system over the last 6 years. Rather than prophesy the future, he employs divination to hone his intuition through a symbolic structure of geometric enigmas.
The core of this work is based on a table of 81 geometric emblems, collectively called the astramira or "wondering stars." Within each emblem there are hidden symbolic connections and dream figures, as well as spontaneous verse forms, colors, pitches—any or all of which may guide meditation and the creative process. Image, sound, and idea then mutually inspire one another in what has become an enduringly supersensual practice.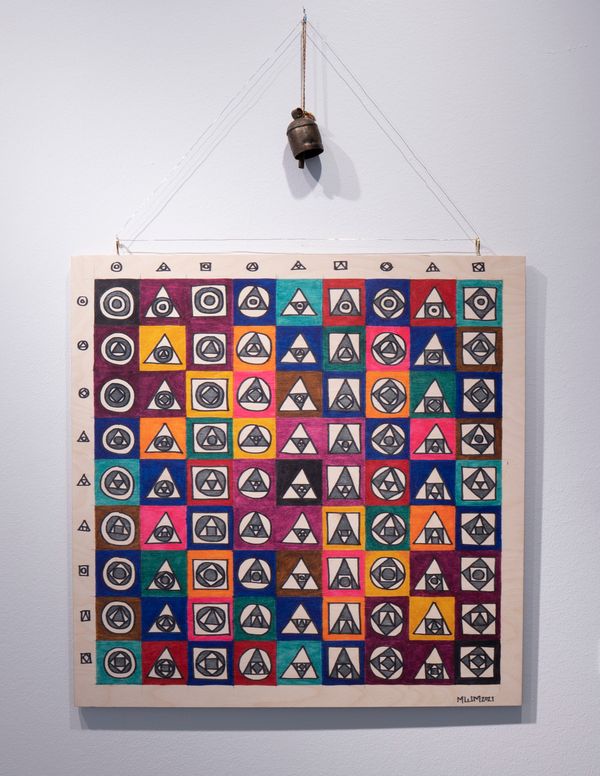 Virtual Tour
(Video by Adam Carlin)
PHOTOS FROM THE EXHIBITION 
(Photos by Matt Marble and Cristal Zeballos)